Bob & Martha Taylor
We appreciated how comfortable you made us feel while going through the entire process. This was a new adventure for us, and you made it easy for us. You also put our minds at ease when things got "rocky" while waiting…thanks!
---
Sandy Cruz
You have a very positive attitude. You researched my needs in a home. You searched for over 8 homes (previewed more than 8 homes before showing them), that made my time an easy thing to handle. You covered the paperwork "which is so scary" very carefully. I felt you truely cared. I thank you! I will send others your way.
---
Dick Kendall & Julie Hoffman
Communication is the key- can't do enough of it! You monitored the selling agent and deadlines.
---
BG & Patricia Davis
-Your personality lends a client to believe and trust.
- Kept us informed.
- Use of creative marketing techniques.
- Always asked our opinions.
- Trustworthy.
- Polite with never a non-friendly face.
---
Jason & Stacie Sawicki
We like how personable you were with us. You made us feel like friends.
---
Edwin Jones
Against all odds Frank sold our home (a short sale). We are very appreciative. He kept me informed on all the details no matter how small. He let me know everything that was going on explaining as you went. He stayed positive!
---
Allen & Diann Tomko
You were always there for us! We appreciate it. Thank you. Diann & Allen Tomko
---
Richard Smith
You did everything well, from first showing to successful closing. I am greatly impressed with your dedication, diligence, frank and open communication and your "can do" attitude. When others failed to perform, you always did what was necessary to keep our purchase moving forward and on schedule. Without you as our Agent, I am convinced the sale would not have happened, at least not as smoothly and enjoyably as it did.
---
Susan Lange
Frank made a long distance transaction (listing in Reno, seller and title company in Las Vegas, buyer and lender in San Bruno, CA,) very easy. Answered all questions; always returned calls ASAP. Would recommend to my friends.
---
Jack & Judith Sampson
You gave me your advice! Everything too well! God bless you.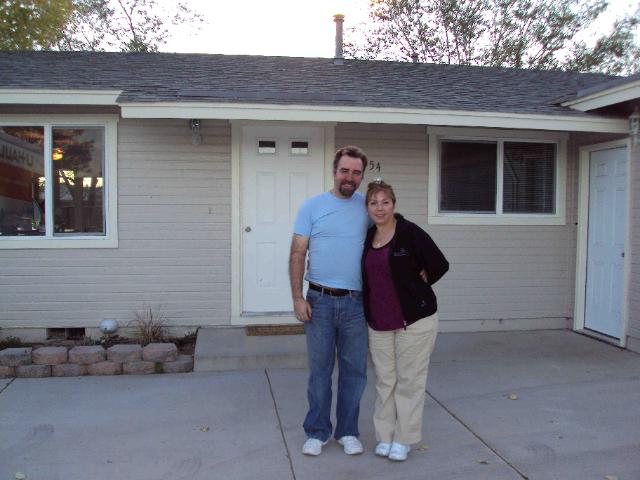 ---
Marty & Anne Martins
We were house hunting and came across Frank when we called about a particular home we were interested in. Frank met all of our expectations and guided us through the homebuying procedure as we had never purchased a home. Frank is an honest person and has a great sense of humor and we would recommend him to anyone we know that is looking to purchase a home.
---
Scott Yang
Last year I found myself in a situation where I needed to short sell my home. Prior to meeting Frank, I interviewed two agents - one who forgot our first appointment, and another who demonstrated a negative attitude about attempting to short sell my home. Then, in walks Frank Lovering, personalized packet in hand, seemingly with everything I need to know about short sales and how find a buyer for my home. It was clear he had done his homework. I was impressed and hired him that day. Best thing I ever did! In the dead of winter and the middle of the worst housing market most anyone has ever seen, Frank found a buyer for my home in two months. But that wasn't all...the short sale process was difficult, to say the least. Over a period of five long months, Frank patiently and expertly negotiated with my mortgage holders, always displaying a calm, courteous and professional attitude. A 'kill 'em with kindness and persistence' approach, if you will. Frank Lovering not only met but far exceeded my expectations. Would I recommend him to a friend? You bet, and I did. He helped my best friend and his wife sell their home.
---
Frank Sibley
Mr. Lovering did an excellent job in helping us find a home. He went far beyond every expectation we had. I have recomended him to everyone I have encountered who is looking for a house. He is the only realtor I would ever use in the future.
---
Rick & Marilyn Savage
My wife and I chose to work with Frank because of his professionalism and dedication to finding us the perfect property. We worked with Frank for over a year viewing many homes in the area until we found the right one! His oversight during escrow is unparalleled and very appreciated. I would and do tell every one that Frank is the person to call as he is one of the best RE agents I have had the pleasure of working with. You will not be disappointed.
---
Heather Carlquist
Very knowledgeable of the market. Frank made purchasing a home a pleasant and stress free experience. He was available whenever I had questions and always kept us informed every step of the way.
---
Charlie & Nancy Adair
You were always available. I never felt like I had to chase you down!
---
Desiree Overcast
Frank went above and beyond to help me make my first home purchase! Not only did I drag him to over 20 houses in a month, but when it came down to making my dream happen Frank was there every step of the way. My dream-home was a short -sale ; and if it had not been for Frank I don't think I could of made it. "... ". I literally have Frank to thank for getting this done; (not to mention done in time for me to get the first time home buyers tax credit!) Frank replied to every email I sent him in great detail and in a VERY timely manner. Frank also helped me find a mortgage loan officer who was wonderful. Overall I highly recommend Frank to anyone who's looking into purchasing a home. He can deliver!!!!
---
Nancy Markeson
Everything was wonderful. Frank did what we expected and in a speedy and professional manner. He did an excellent job negotiating the sale and found a buyer! He worked for us and did an excellent job. We couldn't have asked for anything more.
---
Janet and Dick Stoll
He did everything well!
---
Donna and Ron Jackson
If I had my own business I would do everything possible to make Frank Lovering a part of it. As a previous Sale Manager for a major distributor, Frank is the epitome of a Sale Executive. He is patient and always communicates what is useful and never makes you feel you are imposing on him. We really appreciate our relationship with him. Never any pressure and Always Considerate!
---
Faith and John Saletti
Kept us aware and updated on the process. Always got back to us in a timely manner. We felt confident throughout the entire escrow.
---
Linda Garza
Frank your willingness to serve and to answer questions is commendable.
---
Roberta Ward
Frank delivered what was promised, was accessible, listened. I would use him again and recommend him to others. He did everything well.
---
Wendy and Miguel Murillo
I wouldnt change a thing about Franks service. He is great! He always was available when we needed him and always worked hard to make the offers get accepted and close as quickly as possible.
---
David & Jennifer Martin
Dec. 14, 2011

Frank was realistic about the listing price. I love that we didn't have to have a conversation 3 months after listing as to why the house hasn't sold.