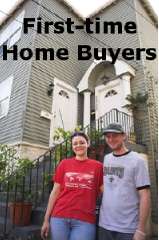 First Time Home Buyers
What does it take to purchase a home?
- You need good credit (Repair your credit) or qualify for FHA or VA loans.
- A 3% or more down payment helps tremendously (check out the Nevada Housing Authority, Nehemiah, Nevada Housing Division's First Time Home Buyer Program, Nevada's Home Assistance Programs or google "down payment assistance programs").
- You need to know what you can afford (what monthly mortgage can you afford?).
- You need to shop around for a loan. Do not just take the first opportunity that pops up. If you want the best loan you need to ask several lenders what the best deal for you they can secure. Click here for more information about shopping for the BEST MORTGAGE for you.
- You need a Letter of Prequalification from a Lender. After talking to a Mortgage Advisor you will know how much you can afford and receive a Letter of Prequalification.
- You need to familiarize yourself with the home buying process.
- After completing the above you need to get a list of homes that fits you. Click here to get a FREE list of homes emailed to you.