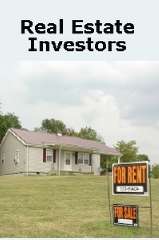 Real Estate Investors
Positive Cash Flow Properties!
Real Estate Investors' Holy Grail is an investment with positive cash flow; an investment with a 15% to 20% down payment, where the monthly mortgage payment is less money than the monthly rental income.
How can I help a Real Estate Investor? Websites that publicly search the MLS (Multiple Listing Service) do not have complete access to all of the data fields in the MLS. Realtors pay a monthly fee to the local Realtors Board which give them greater access to the MLS database. If you are hooked up with a Realtor who is good about returning calls, understands business (I have a BA in Business Administration), is internet and database savvy (I am working on an Associates Degree in Web Technologies), you will end up with a great list of possible POSITIVE CASHFLOW PROPERTIES !! I am that Realtor.
In today's Real Estate environment there are great opportunities for purchasing positive cash flow properties. At this time Bank Owned (foreclosed properties, REO's, etc), Short Sales, and As Is properties are in abundance. There are a lot of sellers (who have to sell) and not many buyers. Let me help you find a great Real Estate Investment!